A draindown system (not to be confused with drainback) is an open loop (water heated by the collector goes to the hot water faucet) system in which the collectors are filled with domestic water under house pressure when there is no danger of freezing. Once the system is filled, a differential controller operates a pump to move water from the tank through the collectors.

Drain down systems have proven to be the most problematic of all freeze protection systems. They are vulnerable to frozen vacuum breakers and air vents, damaged sensors or wiring, lack of proper pipe drainage, and malfunctions with the draindown valve. This type of system is rarely installed any more, and is not recommended. Many were converted to drainback or closed-loop antifreeze systems.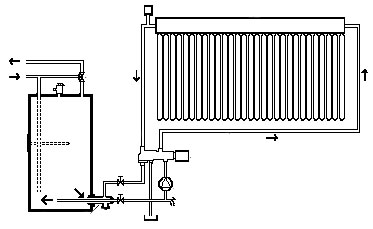 A draindown valve, invented in the 1970s exclusively for these systems, provides the freeze protection function. When the collector inlet temperature falls to 40°F, the draindown valve, activated by the controller, isolates the collector inlet and outlet from the tank. It simultaneously opens a valve that allows water in the collector to drain away. A vacuum breaker is always installed at the top of the collectors to allow air to enter the collectors at the top so water can drain out the bottom. Right next to the vacuum breaker, you'll find an automatic air vent to allow air to escape when the system fills
again.
Advantages
The Drain Down System provides various advantages. There is no heat exchanger, which allows efficient heat transfer directly to the water. It does not use anti-freeze or non-potable water. The Drain Down System offers freeze protection during power outages or malfunctioning of the pump or the control systems.

Disadvantages
The Drain Down system also exhibits a few disadvantages. A drain down valve and special controls required. Care must be taken to plumb the supply and return so that they will drain down. Drained water cannot be recovered, however, a 30 tube Manifold and 50 feet of ½" pipe only holds 5 pints of water. As a result of line pressures in the solar loop, leaks are potentially more serious. In areas with hard water, scaling can be a problem for the valve. Providing valve is cycled daily it should only need de-scaling every few years.